Dunn County Snowmobile Association
Providing the Snowmobile Trail system within Dunn County
with the alliance of 14 clubs and the support of many landowners.
Posted: 02/22/2021 10:07 am
Status: Closed
Condition: Poor
Dunn County Snowmobile Trails Closing Monday 2/22/2021@Noon
All Dunn County snowmobile trails will close @ 12p.m. noon today Monday 2/22/2021. We want to preserve the trails as much as possible and hope for more snow!
Latest Events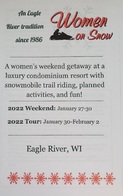 A women's weekend getaway at a luxury condominium resort with snowmobile trail riding, planned activities, and fun!
Thu, Jan 27th, 2022 8:00AM
Latest News
No News available at this time. Please come back later.