Dunn County Snowmobile Association
Providing the Snowmobile Trail system within Dunn County
with the alliance of 14 clubs and the support of many landowners.
Posted: 02/06/2023 09:37 am
Status: Closed
Condition: Closed
TRAILS NOW CLOSED
All Dunn County trails are CLOSED
Latest Events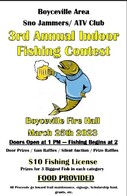 Indoor Fishing Contest
Sat, Mar 25th, 2023 1:00PM
Latest News
No News available at this time. Please come back later.